We all love glowing, beautiful skin that is smooth and soft. But what do you do when one day you look in the mirror and all you can see are ugly acne scars, tender red bumps or whiteheads on your once gorgeous skin?
No! You don't go for cosmetic surgery.
All you need is a bottle of essential oils to treat and even prevent acne. Read on and find out how essential oils can help you get rid of acne.
What is Acne?
Acne is an inflammatory skin disease that causes itchy spots and pimples on the face, neck, back, shoulders, chest or upper arms. It mainly affects teenagers between the age of 13 and 24, but some adults deal with occasional acne breakouts too.
Over 50 million Americans are affected by Acne Annually.
Most acne victims turn to prescription drugs which have harmful effects on the body. They don't address the root cause of the problem, which essential oils do effectively.
Acne can come on your skin in form of:
White heads
Black heads
Pimples
Cysts/boils
Main Causes of Acne
Genetics
Stress
Hormonal imbalance
Skin problems (clogged pores, dead skin, bacteria, extremely oily skin)
Medications such as some birth control pills, lithium, androgens and corticosteroids may cause or worsen acne.
Pressure on the skin from back packs, collars, and sports equipment like helmets.
Squeezing pimples
Using make up products that are not water based, They can easily clog your pore, causing acne.
Dangers and side effects of Acne
If left untreated, acne can lower your self-esteem, and even lead to severe hyper pigmentation and scarring. Ensure that you visit a doctor in case of severe acne outbreak to rule out the cause and find the best treatment. If you would like to embrace natural remedies for acne, essential oils are your friends, not only are they super effective, they are extracted from Mother Nature, so you'll not be bothered by any side effects.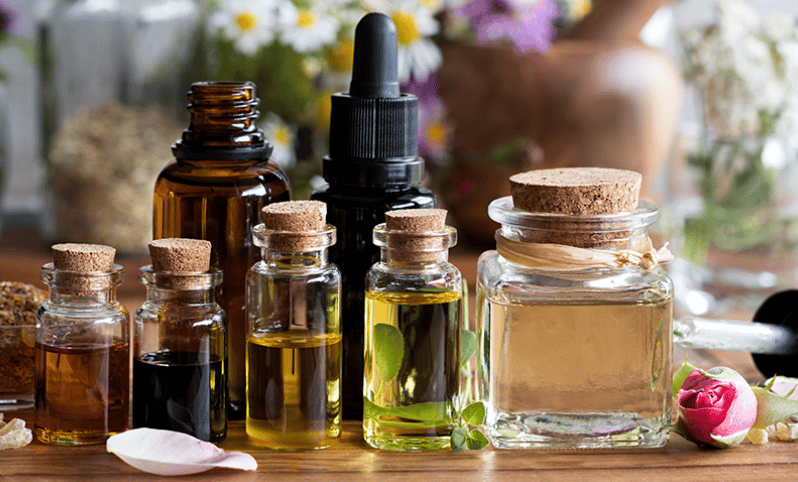 How do essential oils fight acne?
Essential oils are:
Gentle on skin and actually work
Heal both acne and acne scars.
Kill bacteria on the skin.
Soothe the skin, preventing irritation and stress.
One study showed tea tree oil to be much better than benzoylperoxide in clearing acne.
Top Essential Oils for Acne
Essential oils will change your life, give you beautiful healthy skin and prevent skin damage if you incorporate them in your daily skin routine.
Let's look at some of the top 5 essential oils for clearing blemishes, fighting acne and overall skin care.
1.  Tea tree Essential Oil
Tea tree oil is commonly known for its antibiotic, antibacterial and antimicrobial properties. It's highly effective in killing germs and bacteria. Tea tree oil is a potent anti-inflammatory essential oil that can help reduce the size of pimples and even dry out pus once applied to the affected area.
How to use:
The best way to use Tea tree oil for acne is to apply a drop on the pimple. Don't forget to apply your favorite moisturizer when it has dried.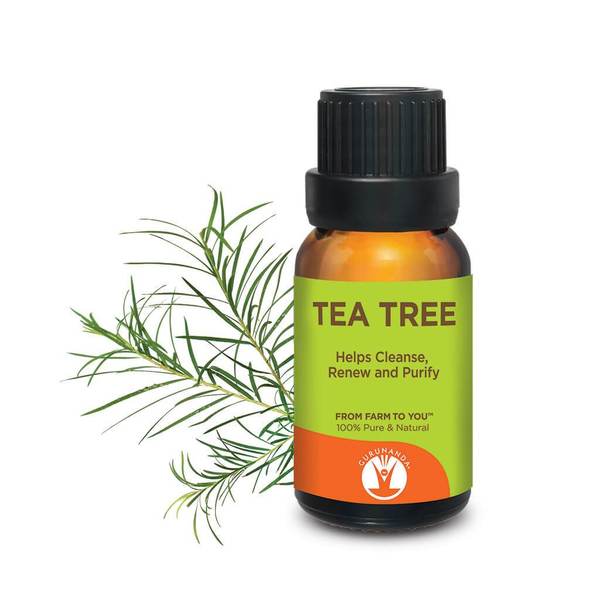 2.  Ylang Ylang Essential Oil
Ylang Ylang is a favorite for most aromatherapists because of its delicious floral scent. It is packed with antidepressant, antiseborrheic, aphrodisiac, antiseptic, and sedative medicinal properties, making it one of the most sought after essential oils today.
This tropical flower will help you treat inflammation and reduce itching and redness of the skin, relieving you from acne outbreaks and eczema. On top of that Ylang Ylang will also relieve you of stress, depression and anxiety by lifting your spirit, and putting you in a good mood.
How to use:
Diffuse your ylang ylang oil and inhale away if you're stressed and need to relax. You can also mix a few drops of ylang ylang oil with a carrier oil and add to your bath, this will help you soak away all that stress and the annoying acne on your skin.
Want to clear skin blemishes? Just mix a few drops of ylang ylang with a carrier oil and apply to your skin.
3.  Lemon Essential Oil
With its fresh citrusy scent, lemon is a true natural healer. It's highly stimulating and soothing to the skin. Lemon is made up of compounds that have anti-fungal, anti-septic, anti-inflammatory and insecticidal properties which help get rid excess oil in your skin and also prevent growth of pimples and cysts, leaving you with acne free and clear skin.
You can also include lemon in your daily skin routine as it's perfect for toning the skin.
How to use:
If you have overly oily skin, apply lemon oil on your skin, it will drain out the excess oils and also reduce the appearance of pimples.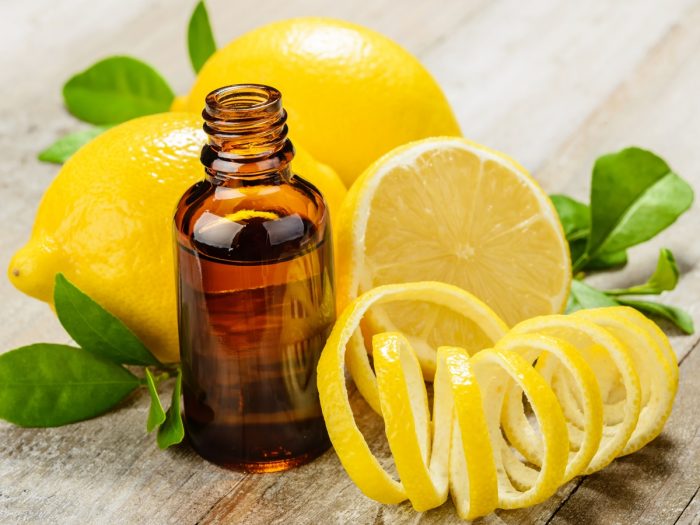 4.  Lavender Essential Oil
Lavender is the best seller on the market. It is your go to essential oil to stop bleeding, relieve stress and calm your nerves. Its calming and relaxing aroma helps treat popped cysts and pimples. It also inhibits growth of bacteria that cause tiny pimples to grow bigger.
Lavender has the ability to calm your nerves, soothe and nourish damaged skin too. Leaving you with smooth healthy skin. A study showed that lavender is a relaxing essential oil, it can relieve you of stress and anxiety which are some of the main causes of acne outbreak.
How to use:
Mix your lavender oil with a carrier like olive oil or almond oil and apply to problem area.
5.  Frankincense Essential Oil
Whether you use the most expensive skin care products, you can't hide from the harsh weather conditions forever. Your skin is still prone to sunlight, dust, and harmful bacteria. This is why you need a bottle of frankincense oil to help maintain your beautiful skin. Frankincense oil will not only dry out acne, but it will also reduce the appearance of fine lines and wrinkles and tighten your skin, giving you a pain free and gorgeous facelift.
Be the envy of your friends by using Frankincense oil today. Your face will shine and glow with this wonder oil.
How to use:
Mix one drop with a carrier oil and apply to the problem area. Massage gently onto the skin and wait for results within days.
6.  Oregano Essential Oil
Oregano is another incredible essential oil you can use to fight acne and other skin infections. It's full of anti-bacterial, antimicrobial and anti-inflammatory properties that can help relieve you of skin irritation and also clear acne and zits completely.
Safety guidelines for oregano essential oil include; Oregano is highly concentrated, so ensure that you dilute it before use and use a maximum of 2% when applying it topically on your skin. It shouldn't be use on kids below 2 yrs of age. This oil is so strong, do not ingest it.
How to use:
Mix 2-3 drops of oregano essential oil with a carrier oil (coconut oil or jojoba oil) and apply to the affected. Make sure you do a skin test on your hand first, because this oil is highly concentrated and not recommended for highly sensitive skin.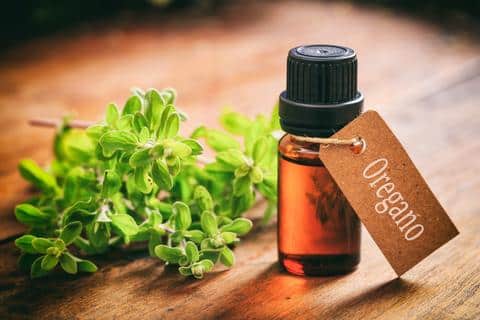 Essential Oil Blend Recipe for Acne
Check out below our favorite Anti Acne blend recipes:
Severe Acne recipe
WHAT YOU'LL NEED:
10 drops – Frankincense Essential Oil
5 drops – Lavender Essential Oil
5 drops – Jasmine Essential Oil
5-10 drops – Vitamin E Oil
4 Tbsp – Jojoba Oil
DIRECTIONS:
Add all the above oils in a dark colored bottle (to avoid oxidation of oils) and shake well.
Apply the mixture to each pimple using a cotton swab.
How to Use Essential Oils for Acne: Step By Step Guide
Topical use
The best way is to apply 2-3 drops of your favorite essential oil directly on the affected area.
Mix your essential oils with carrier oils such as jojoba oil  and coconut oil for best results.
You can also add essential oils to your bath and enjoy their amazing benefits while you relax. This method is most ideal if you want to treat acne and acne scars all over the body (chest, back, neck etc). By soaking yourself in a bath, you're sure the oils will not miss a single blemish or acne spot. The best oils to use are tea tree oil, lavender because of their divine scent.
Essential Oil Safety
Too much of anything is bad, this applies to essential oils as well. Apply 2-3 drops of essential oils on your skin to treat acne. Some oils like tea tree oil are too strong, ensure that you dilute them with a carrier like hazel nut and don't over them. Tea tree oil, if over used, can dry out your skin, causing the body to produce more oils, hence leading to acne.
In case of sensitive skin, Dilute your oils with a carrier oil before applying topically, to avoid any allergic reactions.
Stay away from direct sunlight when using essential oils topically. The Sun UV rays will affect your skin, causing skin irritation and redness. If you must go out, wear a hat or apply sunscreen.
Don't forget to do a small patch test of the oils before full application to avoid allergic reactions.
Carefully follow dilution guidelines before using any essential oils.
More Tips for Acne Relief
Healthy diet: Restore your natural beauty by eating a healthy balanced diet. Remember, what you eat will eventually show on your skin. So include foods that are rich in proteins, carbohydrates and fats. Avoid sugars and processed foods in order to prevent acne and other skin conditions.
Green tea: One study  found that drinking tea especially green tea can help treat acne. This is because green tea contains polyphenols which have antioxidant and anti –inflammatory properties which help in treating and preventing acne.
Moisturizers: A good moisturizer will keep your skin super hydrated, smooth and soft. It is believed that moisturizers can soothe your skin and even reduce inflammation.
Cosmetics: Don't' shy away from hiding your acne with makeup. Although it's a short term remedy, no one will notice you have a single spot of acne on your face when you use the right foundation. Ensure that you buy water-based cosmetics for your face because they prevent clogging of your pores which is one of the main causes of acne.
Proper skin care: Restore your skin's health by doing these three skin care routines – Cleanse, tone, mask! Cleansing will help get rid of dirt, oils and debris from your skin. Toning helps restore skin pH balance while face masks like yogurt and honey mask will keep your skin hydrated.
Reduce stress: Whenever you're stressed, your body produces hormones that increase the production of sebum, which instead worsens your acne outbreak. Ensure that you're less stressed and avoid any situations that would put you in a dull, stressful mood. Lower stress levels by getting enough sleep, doing exercises, practicing yoga etc.
Wrapping it up!
"Healthy skin is a reflection of overall wellness." Dr. Murad. Get yourself our beautiful collection of essential oils for acne and enjoy your new smooth, healthy skin. Relax, rejuvenate, nourish and renew your skin with our amazing essential oils for acne above.
Are you suffering from hair loss too? Check out our best essential oils for hair loss.
Let us know in the comments section below your favorite essential oil for acne!