If you're ever wished you had longer, thicker, healthier hair, you need to know the benefits of castor oil for hair. Long known as a home remedy for a variety of health problems, castor oil has only recently gotten the attention it deserves for the boost it gives to hair's beauty and shine. This mild smelling pale-colored oil is loaded with nutrients that can stop hair loss and make your hair grow faster and thicker.
What Is Castor Oil and What Are its Health Benefits?
Castor oil is a colorless or pale-colored oil that comes from the castor seed. The castor seed comes from a flowering plant called a Ricinus. The seed is called a castor bean, but it is not actually a bean. The seed is 40 to 60% oil that is rich in triglycerides. It also contains ricin, which is known as a deadly poison. The oil is obtained by pressing the seeds. It is loaded with Vitamin E and minerals, as well as Omega 9 fatty acids and proteins.
Castor oil has many uses, but it is best known for its health benefits, which include:
As a laxative
To induce labor
As an antifungal
To reduce muscle aches
To relieve joint pain
As a natural mascara
To moisturize skin
To heal warts, acne and skin tags
As a sleep aid
To treat colic
All of these benefits are wonderful reasons to make sure that you have castor oil in your home, but one of the best uses of castor oil is for hair growth.
The Benefits of Castor Oil for Hair
Using castor oil hair treatments promotes healthier hair, and it's not just because your hair will grow faster. The nutrients in the oil help make your hair and scalp much healthier, and that boosts your hair's appearance in many ways.
It makes your hair root stronger, which stops your hair from falling out
It sinks into your hair shaft and gives it the nutrients it needs to make hair grow faster
It treats scalp issues that lead to dandruff
It strengthens your hair so you have fewer split ends and breakage
It seeps into the hair shaft, making each hair thicker and fuller
It treats damage to each individual strand of hair. This makes it smoother and shinier and adds back lost moisture.
It protects your hair from damage caused by the sun, heat and chemicals.
The Secrets to Castor Oil's Benefits for Hair
Scientists who have examined the chemical make-up of castor oil have found that it is 90% Ricinoleic Acid. This fatty acid is what gives the oil its laxative properties, but it also has amazing benefits for hair. It spurs the production of a lipid compound called Prostaglandin that promotes hair growth. Prostaglandin nourishes hair follicles, and studies have shown that when it is rubbed into bald spots, hair grows where it hadn't before. Ricinoleic Acid is also an anti-fungal and anti-bacterial. This is very helpful for those who are vulnerable to infections of the scalp.
Castor oil also contains a type of fatty acid known as the Omega 9 fatty acid. These are known for absorbing water from the hair. This means that castor oil helps to hydrate the hair shaft and prevents it from drying out. This helps to relieve brittleness and hair breakage and smooths out rough textures.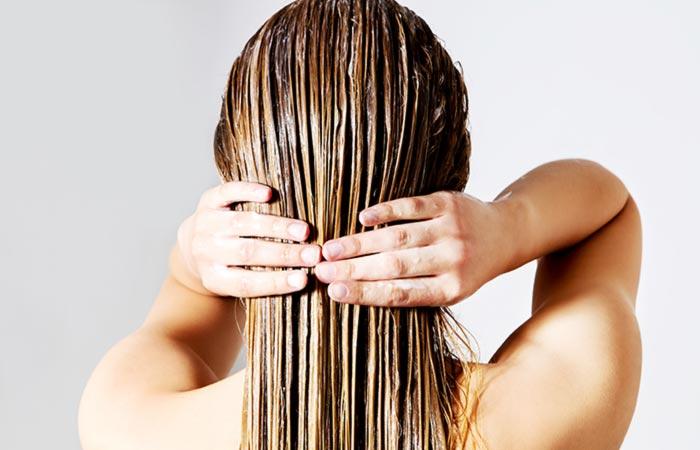 How to Use Castor Oil for Hair Growth
Using castor oil for hair growth couldn't be easier. All you need is a few tablespoons of castor oil. If you'd like to have a spa-like experience, mix the oil with a few drops of a pleasant-smelling essential oil like rosemary, peppermint, or tea tree. You can also mix the castor oil to sweet almond oil and coconut oil for a sweeter smell. If you want to make a larger quantity you can do so and keep it for future use. If you're going to do this, add a drop or two of vitamin E oil to help it last longer.
Start with slightly damp hair. Take the oil into the palm of your hand and rub into your scalp. At the same time work it through your hair from the roots to the tips. Massage well, then let rest on your hair for at least 20 minutes. One hour is best, though some people like to leave it on overnight. If you are going to try this, be sure to wrap your hair so that the oil doesn't stain your pillow.
When you're ready to wash the castor oil out, you may find it a challenge because it is so thick. You can address this by applying conditioner for about half an hour before shampooing. Washing it a few times also helps.
Once the castor oil has been removed, towel it dry. It's best to avoid heat treatments like hair dryers or curling wands for about 12 hours to make sure that the oil can sink in completely.
You will find that your hair feels and looks very moisturized, but seeing hair growth will obviously take some time!
How Often to Use Castor Oil on Your Hair
Castor oil can have a big impact on your hair's health, and the frequency with which you should use it depends on what you're trying to accomplish. If you want your hair to grow faster you should use it at least two times a week, probably more. If you want to improve the condition of your hair and stop it from breaking, once or twice a week is probably enough.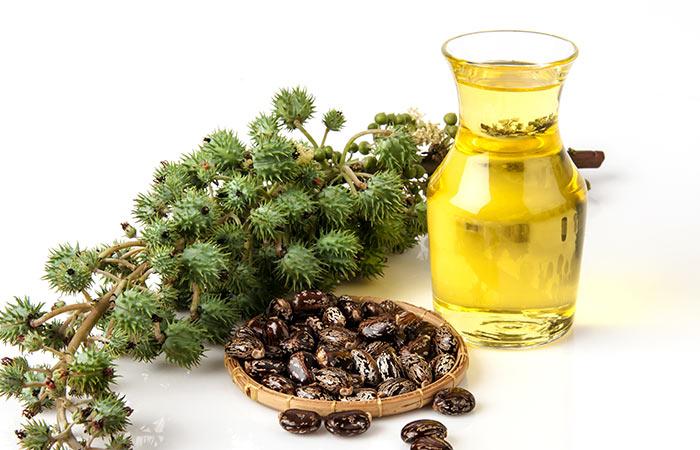 Best Types of Castor Oil for Hair Growth
Though castor oil is available at your local drug store or food market, there are two types of castor oil that are generally considered best for hair growth. These are:
Organic/Cold Pressed Castor Oil
Jamaican Black Castor Oil
The differences between these three varieties largely come from the way that the oil is taken from the seed and what is done with it afterwards.
Organic/Cold Pressed Castor Oil
This oil is best for people who have itchy dry scalps and curly hair. It is removed from the seed through a mechanical cold press process that uses no heat and no chemicals. This method makes sure that none of the natural nutrients are removed. The oil that is produced is pale yellow.
Jamaican Black Castor Oil
This oil is best for people who don't have scalp issues, and is particularly good for those who have straight hair. The castor oil is removed from the seed after it has been roasted. It has a black color, which comes from mixing it with the ashes of the roasted seeds.
Other Ingredients to Boost the Impact of Castor Oil for Your Hair
When you mix castor oil with other ingredients, you can give its impact an added boost. Depending on your needs, you can get even better results by trying one of these additions:
Olive oil – it's full of fatty acids and antioxidants that will help stop hair loss
Coconut oil – it's a potent antibacterial that will help fight scalp infections
Aloe Vera – it's loaded with enzymes that make sure your hair gets the nutrients it needs at the root. It also restores your scalp's pH level
Peppermint oil – it is stimulant that will increase hair growth by boosting circulation at the root
Almond oil – provides magnesium and zinc, which fight hair loss
Onion juice – it's loaded with nutrients and fatty acids that boost hair growth. It also has a high sulfur content that boosts blood circulation.